About this Whitepaper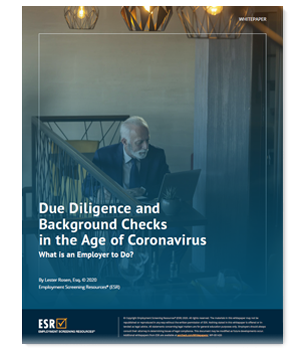 The Coronavirus (COVID-19) is becoming the largest accelerator in workplace changes in our lifetime. From communicating with clients to hiring employees, our new normal is still being written with no real end in sight.
In this whitepaper, written by ESR founder and CEO Attorney Lester Rosen, we discuss the impact of Coronavirus on employers and steps they can take to hire employees effectively.
Topics covered include:
Court closures

Hiring despite incomplete criminal record searches

How to use what is available

Honesty clauses

And much more