About this Whitepaper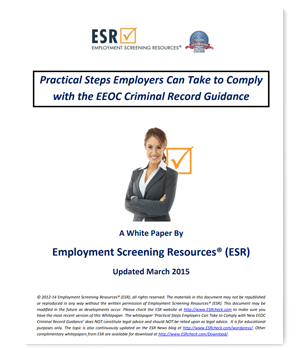 The EEOC is responsible for enforcing federal laws that make it illegal to discriminate against an applicant or employee due to who they are, where they came from, or what they look like. Did you know it is also unlawful to discriminate against someone who has complained, filed, or directly participated in an employment discrimination investigation or lawsuit?

In this whitepaper, we go further than restating what the EEOC suggests and instead give real-world examples of what you should do to stay compliant while performing background checks.
We cover:
Can a business be sued for not hiring ex-offenders?

What is the three-part "Green" test?

The great, the good and the challenging of the EEOC

Best practices for proper use of criminal records in hiring

And much more